William Branham told Morris Ungren, in 1964, that Sidney Jackson was the "key to South Africa". That year, Sidney Jackson and his wife visited William Branham in Jeffersonville for the second time and, as noted before, they were both baptized in the Name of the Lord Jesus Christ at that time. During that visit William Branham brought Sidney Jackson and his wife, together with Pearry Green, into the "Den room" in his home. There he spoke to them for more than four hours about the five extraordinary events, which took place through the "Spoken Word"; the salvation of Hattie Wright's sons, the healing of his wife Meda, the squirrels being spoken into existence, the storm being stopped and the fish brought back to life.
In Sidney Jackson's later testimonies, he tells how God for some reason had brought Pearry Green and him together. He tells that they certainly differed on things, but that he found favor with Pearry Green and that Pearry Green took advice from him. Sidney Jackson also tells how that the prophet (Brother Branham) put him and his wife, together with Pearry Green on the Silvertip Grizzly skin that was in the "Den room", and that they could not get away from each other.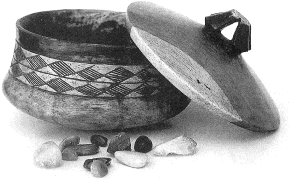 The African carved-wood pot
William Branham prayed for all three of them personally. Sidney Jackson testified how William Branham gave him his commission at that time, which he alone heard and which he kept a secret. Then Brother Branham said, "Look what a missionary from South Africa for South Africa gave me". He then took the African carved-wood pot, that Sidney had sent him in 1951, in which he kept polished stones.
He took a brown stone out of this box and gave it to Pearry Green, saying "A Brown Bear". He also gave a yellow stone to Sidney Jackson, saying "A Yellow Mane Lion". After that he let Sidney Jackson take a stone out of the box for his wife.
Pearry Green also mentioned this event in his testimonies, saying that, through that prayer of Brother Branham, he knew that he had to do something pertaining to William Branham's ministry to be a witness. He also said that the stone "A Brown Bear" spoke to his heart when he went to Russia in 1977. The emblem of Russia is a brown bear and Pearry testified how his ministry and his testimony book "Acts of the Prophet", were very well received in Russia.
Sidney testified, in Canada in 1976, that he did not yet know at that time what the "Yellow Mane Lion" stone meant. But he said there is the Black Mane Lion in the South-West of South Africa and that not one soul came to the Message from that area. He mentioned further how that in the other parts of South Africa, where the Yellow Mane Lion lives, God has blessed and multiplied this Message.
Now not trying to add to the testimony of Sidney Jackson of why William Branham gave the "Yellow Mane Lion" stone to him, but there are some remarkable facts with respect to the ministry of Sidney Jackson for Holland, especially for the church in Rotterdam, which seem to be in line with all of this. William Branham says that God interprets His own Word. He doesn't need any interpreter. He interprets His own Word by vindicating that Word in Its season.

Sidney Jackson in Rotterdam, 1977
As said before, Sidney Jackson and his wife first came to Rotterdam in 1976. Our meeting was in Harry van der Stel's home, in the Leeuwenstein Street, at that time. Brother Harry and his wife Annie had lived there for many years and they were born in this particular neighborhood of Rotterdam. Once when Sidney Jackson was walking around in Rotterdam in the neighborhood of the meeting, he was happily surprised to see that the street names were all related to South Africa. This neighborhood was called "De Afrikaanderbuurt", which is translated as "The African Neighborhood".
One of the main streets was the Paul Kruger Street and Sidney Jackson's farm in South Africa was very close to the Paul Kruger Park. This is the farm which the Lord told William Branham to go to in 1951, when he was in South Africa, to rest for two weeks at Sidney Jackson's farm.
The Leeuwenstein Street was a little side street off the Paul Kruger Street and in English this is translated as the "Lion Stone" Street. It was in this street that Sidney Jackson's ministry started to be a great blessing for the believers in Holland.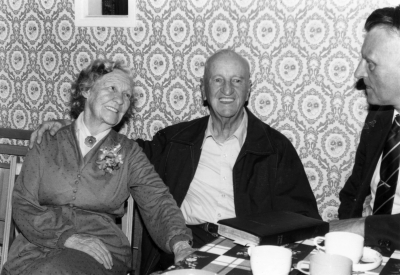 Sidney & Johanna Jackson with Brother Vriesema at the right, in the Boven Street in Rotterdam, 1980
At the end of 1979, Harry van der Stel moved to another place in Rotterdam called the Bovenstraat (Boven Street is "Upper" Street in English), where the church building still remains. Sidney Jackson also visited us here and he liked it very much. On entering the Boven Street, at just less than fifty meters before our church building, on the left side of the street you will first see the words "Gouden Leeuw" in yellow neon letters on the wall of the café on the corner. The words "Gouden Leeuw" are translated as "Golden Lion" in English.
There is a book about the history of Rotterdam in which the Leeuwenstein Street is mentioned. Because it was situated at the bottom of a dike, the area was also called "the lions' den".
In 1979, when Harry van der Stel moved away to the new church building, this street was renovated and in the book is stated: "In 1979 the 'lion' has left his 'den' forever". New houses were built in this street and the roofs were partly made out of copper (a symbol of judgment), which is very uncommon in Holland.
It is also remarkable to note that the original emblem of Holland displays a yellow lion holding a sword in his right front paw. This originated in 1572 when Holland began to be independent from Spain under the leadership of William of Orange, whose family banner contained a lion. It is said that they were inspired by the lion in the banner of the tribe of Juda. Starting in a little place at the seaside named Brielle, close to Rotterdam, the Spanish occupation was driven away from Holland on April 1st, 1572.
The Spanish soldiers could not enter into this liberated area anymore as large areas of land were purposely flooded by the Dutch people. Shortly after this, most of the cities in Holland and Zeeland (which are now provinces within the Netherlands) were set free. The Reformation, that started in Germany with Luther, could therefore move westwards and many Protestant and Jewish refugees from other countries in Europe came to Holland.
Since 1949 the symbol of the lion of the tribe of Juda is shown again in the flag of Jerusalem with two olive branches at either side. We know that the two olive branches represent Moses and Elijah, in the Bible in Zechariah 4. The blue lion with the yellow mane represents the Lord, as it is written in Revelation 5, verse 5:
"And one of the elders saith unto me, Weep not: behold, the Lion of the tribe of Juda, the Root of David, hath prevailed to open the book, and to loose the seven seals thereof."